Soooooo....Longfellow characterized me perfectly with that poem, even though I don't have a little curl on my forehead. And I'm not very little. Okay so the good and bad parts are totally me.
Remember a few posts ago how I said I was trying not to buy any clothing for myself for 3 months? I did really well for exactly 31 days. Then I had a breakdown. The results are here.... I was horrid.
Shopping Day One






Shopping Day Two







I guess I have some explaining to do??? Okay, bear with me because I have totally mastered the art of making excuses.
1) I really, really, REALLY thought about how I could use every single item before I committed to purchasing it. I followed
Kendi's Rules
and considered a minimum of three different outfits per piece. Truth be told, I can come up with more than that for almost all of them.
2) A couple of these pieces have been on my "must add to closet" master list; the leather biker jacket, booties and the neutral snake skin shirt specifically.
3) As I have said before, I am unable to walk away from a good deal. The navy skirt is Michael Kors and if you zoom in on the tag you will see I paid $4.97. Same price for the other skirt. I paid $59.00 for the leather jacket. It is Real leather people and it is soooo soft and has amazing detail.
4) Because I said so. (doesn't make any sense? I'm a Mom and therefore it does)
So perhaps I will do better in November and I'll spend all my money on food and wine instead.
Cheers,
Alyssa
p.s. I'm already wearing some of my new haul, like a kid going back to school!
What's not to love about Merlot Polka Dots? ;o)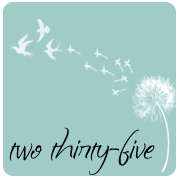 Linking up here today...check it! She's awesome.